---
Request a Quote
(866) 918-0995
MAK Squeeze Page
---
FREE REPORT: See Why We Are Better Than China
Sheet Metal Stamping Services
---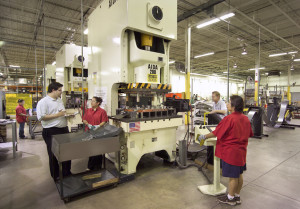 With our multiple single station, turret station, or single point gap series presses, Classic Sheet Metal is configured to meet your sheet metal stamping requirements.   Classic can handle short  to long run sheet metal stamping projects and meet your production needs.
Unlike single station turret presses "nibbling" away your desired part one tool at a time,  our Gap Presses for sheet metal stamping are capable of producing a completed metal part with as little as one hit. Using die sets referred to as "hard tooling" to minimize the sheet metal stamping and metal forming process, Gap presses allow a completed part or series of parts to be reproduced quickly and efficiently.
To increase the speed of production, the sheet metal stamping machines are equipped with a coil feeding system. This system allows the loading of coiled material onto a feeding dock, which is then fed through a material "straightener" to allow a consistently flat "blank" to enter the punching area without operators having to stop production. Should your completed part require an actual blank to be manually loaded into the metal stamping machine, our trained operators are capable of ensuring successful repeatability while maintaining a safe work environment through the use of electronic "laser borders" that prevent our sheet metal stamping machines from cycling should any foreign objects enter the punching area, protecting our operators and your die sets.
Classic Sheet Metal's new oiling system automatically injects vanishing oil onto the cutting surface to extend die life as well as decrease the amount of burring produced by the metal punching process. This oiling system greatly reduces the need for secondary operations to remove these burrs, such as tumbling.
---
Equipment
3 - 60 Ton Punch Presses
6 - 25 Ton Punch Presses
3 - 110 Ton Punch Presses with coil process equipment
4 - 220 Ton Punch Presses with coil process equipment
Automation
Operators trained & certified in the use of multiple machines. Highly automated. Automated machines feed, part and scrap material.
Volume Capabilities
Prototype Runs to Several Million Pieces Annually Depending on Product Complexity & Application
Materials
Aluminum (all grades)
Mild Steel
High Strength (HSLA) Steel
Cold Rolled Steel
Hot Rolled Steel
Galvanized Steel

Stainless Steel
Austinitic (300 series) Stainless Steel
Specialty Stainless Steel
Brass
Copper
Data Exchange
ProEngineer
AutoCAD
Master CAM
SolidWorks Part Files
Catia CAD/CAM
SolidWorks Assembly Files
2D & 3D DXF Files
2D & 3D IGES Wireframe
other CAD/CAM Formats
Secondary Operations
Tooling
Die Tapping
Staking
Value Added Process
Hardware Installation
Tapping & Deburring
Cleaning
Heat Treating
Plating
Anodizing
Screening
Painting
Returnable/Reusable Packaging

Sheet Metal Stamping: Defined
---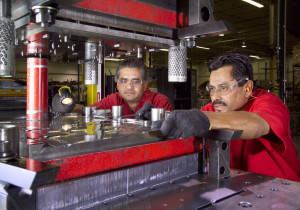 A punch press is commonly mechanically operated but some simple ones are man-powered. A sheet metal stamping punch press often consists of these parts: frame, motor, a ram that holds the punch, die posts, bed, and bolster plate that holds the die. A punch is often made of hardened steel or carbides. The punch press forces the punch into a work piece to pierce a hole that has a diameter equivalent to the punch.  A die is located on the opposite side of the work piece and supports the edges of the hole created to keep it from deforming during the punch. There is a small amount of clearance between the punch's diameter and the die's. This clearance depends on the work piece material and various tolerances.