---
Request a Quote
(866) 918-0995
MAK Squeeze Page
---
FREE REPORT: See Why We Are Better Than China
Metal Laser Cutting Services
---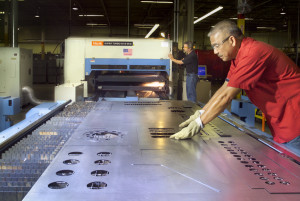 Technology continues to drive improvement and innovation in modern metal working and metal laser cutting capabilities are a much needed service in today's marketplace.  Classic Sheet Metal's, metal laser cutting capabilities allow expedited turnaround times for sheet metal prototypes and the rapid production of complex items that require precise dimensions, shapes and cuts.
Laser cutting has revolutionized the way that sheet metal prototypes are made.  This technology has brought about a seamless method of fabricating flat blanks and CAD databases can be converted to heet metal laser cutting programs without any human interpretation.  Our software allows the database to be transferred directly to machine codes and human error is virtually eliminated.
Often after receipt of a pilot run order, the same geometry that produced the CNC laser cutting code for the prototype can be converted to a punch or punch/laser combo program or even to design hard tooling for mass production; all designed to reduce cost and expedite delivery.
---
Equipment
1 - 1200 Watt Strippit combo laser/punch with 48" x 39" capacity
1 - 1500 Watt Mazak Super Turbo Laser with 40" x 86" capacity
1 - 4000 Watt Mazak Super Turbo X510-MK2 laser w/ 60" x 120" capacity and automatic pallet changer
Automation
Operators trained & certified in the use of multiple machines.
Volume Capabilities
Prototype Runs to Several Thousand Pieces Annually Depending on Product Complexity & Application
Materials
Aluminum (all grades)
Mild Steel
High Strength (HSLA) Steel
Cold Rolled Steel
Hot Rolled Steel


Galvanized Steel
Stainless Steel
Austinitic (300 series) Stainless Steel
Specialty Stainless Steel

Data Exchange
ProEngineer
AutoCAD
Master CAM
SolidWorks Part Files
Catia CAD/CAM
SolidWorks Assembly Files
2D & 3D DXF Files
2D & 3D IGES Wireframe
other CAD/CAM Formats
Secondary Operations
Tooling
Die Tapping
Staking
Value Added Process
Hardware Installation
Tapping & Deburring
Cleaning
Heat Treating
Plating
Anodizing
Screening
Painting
Returnable/Reusable Packaging

---
Metal Laser Cutting Defined
Metal Laser cutting is a technology that uses a laser programmed by a computer to cut materials, which is used for industrial manufacturing applications. Laser cutting works by directing the output of a high power laser at the material to be cut. The material then either melts, burns, vaporizes away, or is blown away by a jet of gas leaving an edge with a high quality surface finish. Our metal laser cutters are used to cut flat-sheet material.
The typical CO2 laser used for cutting sheet metal produces an ultraviolet light beam focused down to a .007 diameter at the point of cutting.  The light produced is invisible to the human eye, but the heat generated at the point of focus is hotter than the surface of the sun.  Assist gases remove the ash with pressures up to 150 lbs per square inch.