About Classic Sheet Metal
---
Classic Sheet Metal was established in 1962 on the premise that Quality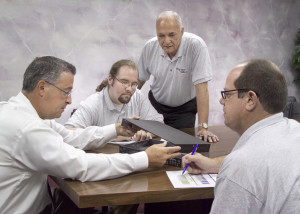 and Customer Service are the cornerstones of Excellence. Since then, Classic Sheet Metal has transformed itself into a modern manufacturing facility producing metal products under an active ISO 9001 program directed by a team of accomplished metal working professionals.
The firm is a vital part of worldwide supply chains for several well known global companies. Classic Sheet Metal employs several types of metal fabrication production capabilities producing quality assured parts implemented with old-world workmanship and common sense values.
Classic Sheet Metal established itself as a leader of "short run" (custom or urgent turn-around parts) sheet metal fabrication with the aid of state-of-the-art equipment and stringent quality and process control procedures.
As one of the pioneers in the application of statistical process control (SPC), Classic Sheet Metal acquired decades of data which has provided members of the industry with the process capabilities of sheet metal fabrication.
Established in March of 1962, Classic Sheet Metal began its
journey in a 7,500 sq. ft. facility in Chicago, Illinois.
In the late 1960s, Classic Sheet Metal moved to a 12,000 sq. ft. facility in Schiller Park, with much needed additional floorspace for custom metal parts manufacturing.
 As business continued to flourish, Classic Sheet Metal relocated yet again, to a 30,000 sq. ft. facility and continued to establish itself as a leader in the metal fabricating industry. This became Classic's home for the next 30 years.
Classic Sheet Metal moved to their current location in 2000, and established itself beyond metal fabrication and into sheet metal stamping, high end assemblies, added value, just in time deliveries and continues to be the leader in their field.